Wonder Woman 1984 'fills You With Wonder'
Wonder Woman 1984 'fills You With Wonder'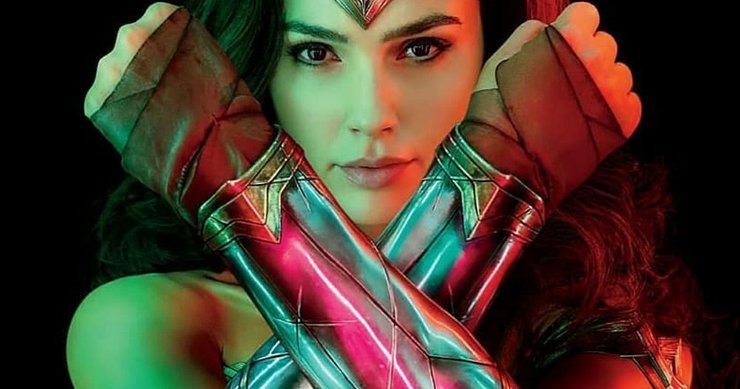 Gal Gadot returns as the Amazonian Princess Diana in this ?funny, sweet-natured, brightly-coloured adventure?, writes Nicholas Barber.
There used to be a time when you could follow a Hollywood blockbuster even if you hadn?t memorised all the prequels, sequels and characters? family trees. You could see it as a child without being traumatised, or as an adult without being patronised, and it had the good grace to admit that it was primarily a piece of big-budget mainstream entertainment, rather than a Freudian epic about fate and intergalactic devastation. There have been recent examples, I know, but the time when those family-friendly blockbusters were made most regularly was the 1980s. That?s why Wonder Woman 1984 is so ingenious. It?s set in the 80s, and it includes all the shoulder pads, perms, synth-heavy pop songs and Cold War paranoia which that dateline implies. But what?s remarkable is how close it is to being a 1980s blockbuster itself. A funny, sweet-natured, brightly-coloured standalone adventure, it is so reminiscent of the likes of Raiders of The Lost Ark and Ghostbusters in its jokes, its plotting, its locations and its general atmosphere that it fills you with the same warm feelings that they did ? one of those feelings being wonder.
More like this:
? Hollywood?s most disturbing director
? Why we no longer need superheroes
? The best films of 2020
WW84 (to give it the title that is used on screen) is directed by Patty Jenkins, who made the first film in 2017, but it has a more playful and hopeful tone. You don?t have to have seen Jenkins? previous film to understand it, either, nor do you have to have seen the character?s appearances in Batman V Superman: Dawn of Justice or Justice League, which may come as a relief. All you need to know is that Wonder Woman (Gal Gadot) is an Amazon princess whose boyfriend, Steve Trevor (Chris Pine), died during World War One. Decades later, she still hasn?t got over him ? yes, she?s pining for Pine ? but she has a busy double life in Washington DC.
WW84 is so positive that even the villains are sympathetic
The first bit of crime fighting she does is in a shopping mall, complete with aerobics displays and amusement arcades. A gang of armed robbers steals some black-market artefacts from the back room of a jewellery store, and suddenly Wonder Woman is there, flicking her fluorescent lasso, scrunching the thugs? guns in her bare hands, and pushing small children out of danger with a reassuring wink. This jovial set piece is a refreshing reminder that, in their earliest days, comic-book superheroes were there to make their young fans feel better about the world, not worse. And Gadot ? smiling, glamorous, radiating alpha-female confidence ? embodies that purpose as well as anyone since Christopher Reeve played Superman.
There is a greater threat to come, of course, but even this echoes the endearingly quirky menaces that were more common in the 1980s. When she isn?t superheroing, Wonder Woman is Diana Prince, a curator at the Smithsonian Museum ? where, as in the Superman films, nobody notices her striking resemblance to the city?s statuesque vigilante. A fellow curator, Barbara (Kristen Wiig), is given the task of identifying a mysterious gem that was recovered from the mall hold-up. This magical McGuffin, which would have been right at home in Ghostbusters or Raiders, grants the wishes of anyone who holds it.
Without realising what she is doing, the mousy Barbara wishes that she was more like her charismatic new friend Diana. Diana, meanwhile, wishes for the return of Steve, which allows the film to bring the character back from the dead, and to have fun with the concept of a war hero from an earlier era being puzzled by the modern world. You could quibble that he is too similar to another Steve played by another Chris: Marvel did the same man-out-of-time routine with Steve Rogers (Chris Evans), aka Captain America. But Pine plays the role with so much goofy, innocent charm, and so much romantic chemistry with Gadot, that you can forgive all the scenes in which he is confused and dazzled by escalators and break-dancers.
WW84 keeps going for 151 minutes ? and it feels like it
Indeed, WW84 is so positive that even the villains are sympathetic. Barbara ends up fighting Wonder Woman, but she is more of a wounded soul than a typical mass-murdering malefactor, and Wiig?s nuanced performance emphasises her humanity, even when she mutates into a cheetah. The other villain is Maxwell Lord (Pedro Pascal), a smarmy oil baron in a double-breasted suit who nabs the wishing gem. It may have been a mistake to cast an actor with a strong Chilean accent as a tycoon inspired by the all-American ?Greed is Good? anti-heroes of Wall Street and Dallas, but, again, Maxwell is more desperate than malign: there is a sweet fairy-tale aspect to a bad guy who causes chaos not by killing people but by granting their wishes.
Still, if WW84 is more optimistic than most of its 1980s equivalents, not all of the updates are so welcome. The CGI stops the action sequences being as visceral and believable as they were back in the days of practical stunts. And 1980s blockbusters usually wrapped things up in around two hours, whereas WW84 keeps going for 151 minutes ? and it feels like it. The prologue shows us Diana as a girl in her idyllic all-female city state. She competes in a spectacular tournament which is essentially the Amazonian answer to a Quidditch final, and while pre-teen viewers will love it, this lengthy segment has almost nothing to do with the rest of the story. The section with Diana and Steve strolling around Washington is in no hurry, either, and the last act gets noisier and more jumbled the further it drags on.
Jenkins has said that she would have liked the film to be 15 minutes longer. Some viewers might have liked it to be 15 minutes shorter. But, for most of the running time, they will be happy to be in Wonder Woman?s uplifting company. In its old-fashioned, uncynical way, WW84 is one of the most enjoyable blockbusters to be released since 1984.
Wonder Woman 1984 is on general release from 16 December, and released in cinemas and on HBO Max in the US on 25 December.
Original Source: https://www.bbc.com/culture/article/20201215-wonder-woman-1984-fills-you-with-wonder
What's Your Reaction?