Covid-19: Sharjah Desert Safaris Resume; Safety Rules Announced
Covid-19: Sharjah Desert Safaris Resume; Safety Rules Announced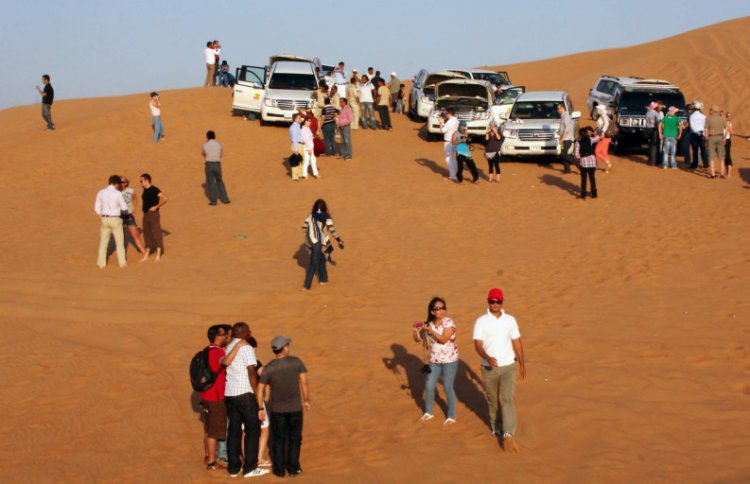 Residents with chronic diseases or respiratory diseases should avoid desert tours.
Desert safaris, dune bashing and related activities can now resume in Sharjah with strict Covid-19 safety measures.
The Sharjah Commerce and Tourism Development Authority (SCTDA) has issued a guide that specifies the safety measures that must be implemented by tour operators.
As per the rules, those with any type of chronic diseases or respiratory diseases should avoid the desert tours.
The ?highest levels? of hygiene and sterilisation procedures must be followed. ?Inspection tests and temperature checks must be conducted for everyone, including passengers and drivers. Food and beverages are not allowed inside the vehicle; instructions about safety measures must be provided in every SUV; and a comprehensive and thorough disinfection of vehicles and public areas should be implemented,? the SCTDA said.
Key safety rules
>> Reception desks of tour companies must have plastic or glass partitions with minimal openings to accept payment transactions.
>> Number of passengers should not exceed the vehicle?s capacity and a distance of at least 2 metres must be maintained between people.
>> Signboards must remind passengers to avoid crowding or gathering in one area.
>> Tour operators are required to provide a reservation system that enables health authorities to collect information to help trace contacts if necessary. This includes tour details; sites to be visited; time and dates; contact details.
Khalid Jasim Al Midfa, chairman of the SCTDA, said the decision is a ?step forward in the process of the gradual return of all tourism activities in Sharjah?.
Al Midfa highlighted that adherence to the precautionary measures is key as it ?provides a foundation to rebuild the momentum of activities in the tourism sector while at the same time ensuring the health of employees and tourists?.
?With the commitment of tour operators and desert tour establishments to following the health protocols and implementing the highest preventive measures and precautions, we are confident that we will move to the next stage of our recovery plan.?
Original Source: https://www.khaleejtimes.com/coronavirus-pandemic/covid-19-sharjah-desert-safaris-resume-safety-rules-announced
What's Your Reaction?