Ifsah Merchant Showcases Pakistani Culture Through Her Pretty Designs
Ifsah Merchant Showcases Pakistani Culture Through Her Pretty Designs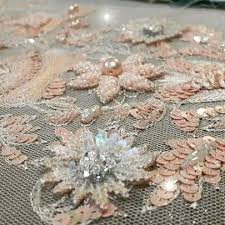 ?
The fashion designer who was recently in Dubai for The Festive Boutique believes it?s important to keep culture alive
It didn?t start out as a business venture. Fashion designer Ifsah Merchant?s passion for fashion was a mere hobby that she honed by making outfits for her little nieces and nephews. What began in a makeshift studio of her house has today blossomed into the coveted brand named after her.
The Saudi-born Pakistani designer spent her formative years in the Middle East and moved to Karachi when she was 17-years-old. She enrolled herself in a compendium of short-term courses at Indus University. The proud mother of three little girls explored her skill behind the spinning wheel as a teenager by tirelessly working on design to create customised ensembles for her family members.
Her private label, now over a decade old, offers an effortless fusion of edgy and elegant silhouettes. Most of her pieces are laced with intricate threadwork and embellished motifs. Her ensembles are shipped worldwide, including the UAE.
The Festive Boutique, a one-day exhibition held at Palace Downtown Dubai recently saw emerging brands and established labels alike, showcase their apparel for the everyday women of the city.
We got in touch with Merchant post her exhibition in the city to talk fashion, inspiration and more.
What sparked your interest in fashion?
Fashion has always been an intrinsic passion of mine. As a student, I began exploring my skill set and conditioning my knowledge about fashion by making outfits for my nieces and other little children in the house. It was the presence of young girls in my family that ignited my passion, and it was the appreciation of their outfits that instilled in me the strength to continue my journey in the field of fashion.
Your label is over a decade old now. How has the journey been so far?
It?s been rewarding. Being a small-scale business, our outfits have traversed locally and even though there have been many trials and tribulations along the way, we have experienced exceptional moments of success too. I am a strong believer in the notion that there is always room for improvement and that learning is an on-going process. I have always intended to keep my business small-scale so that it is manageable and allows me to juggle my life at home while simultaneously spending time in the workshop and focusing on the quality of what I produce.
You have a lot of exquisite pieces in your collection. We love how they have a simple and clean silhouette. Where do
you get your inspirations from?
Inspiration stems from many different facets of life. Sometimes it is merely a new colour or shade that captures my attention. At other times, my inspiration is sparked by a new fabric or texture that propels me to mix and match different materials. Sometimes, it is the surroundings, or change in weather. My goal is to always create outfits that are simple, practical yet elegant and the inspiration for these are usually stirred by nature.
What are your thoughts regarding the fashion scene in Pakistan right now?
In my opinion, the fashion industry in Pakistan is flourishing right now. There are many upcoming designers and thriving competition. However, I believe that many designers are moving away from our cultural values, and steering towards Western culture. By adopting characteristics of Western fashion and injecting them into our traditional clothes, I have observed the unfortunate diminishing of authentic Pakistani tradition displayed in our fashion industry. For me, weaving tradition into my clothes, and my long dupattas is a top priority as the rich Pakistani culture is something very close to my heart.
How do you define your design ethos?
My design ethos is one that showcases the significance of Pakistani culture in outfits, coupled with the importance of fine, intricate work. I ensure that my work is neat, seamless, and of course, delivered on time. I aspire to always keep my customers happy and content so I put in all my effort to produce a replica of what they have in mind.
Are there any particular designers or idols you look up to?
Yes, many designers inspire me in different ways. Some of my favourite designers include Bunto Qazmi and Elan, both of whom fuse traditional work with a modern touch to generate fantastic outfits.
How was your experience at the Festive Boutique last month?
Fantastic! It was my very first time displaying my work internationally and fortunately, the response was great, motivating me to work even harder and persevere to craft new exquisite designs.
Do you having any celebrity muses?
I am a strong believer in moderation. If I had to put a face to my aesthetic, it would not be a celebrity. Instead, the face would represent anyone, a normal human being to reiterate the idea that my clothes are perfect for everyone and anyone. They are not tailored to suit just celebrities and models ? instead, they represent someone more realistic. I feel it is also important to establish that to match my aesthetic, my criteria do not include someone model-like, or someone of size zero ? but instead a spectrum of sizes, to ensure I do not stereotype my customers to only suit specific body types or social positions.
What's Your Reaction?