UAE's Vintage Vloggers In Search Of Elderly-friendly Cafes
UAE's Vintage Vloggers In Search Of Elderly-friendly Cafes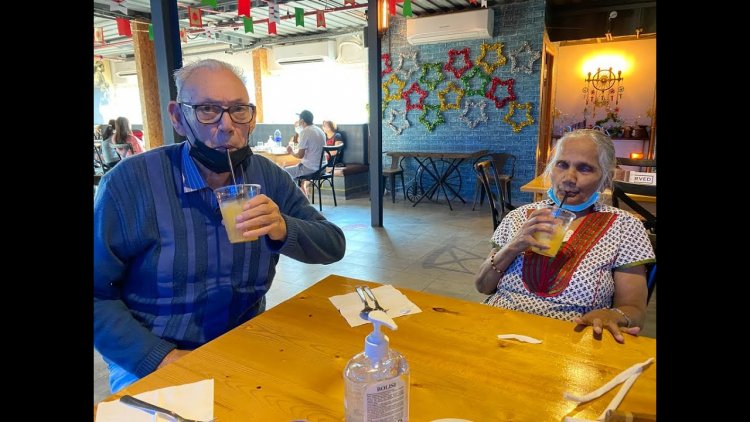 Vintage Vloggers are set to review more restaurants and cafes across the UAE.
When a couple of senior citizens were unable to get a senior-friendly meal and ambience where they could sit and enjoy good food and chat, they decided to start a quest to find the right caf? for them.
Calling themselves the ?Vintage Vloggers?, the two passionate senior foodies ? 73-year-old Emirati Hafez Redha and 92-year-old Indian-American Narindra Singh Puji ? now visit one restaurant every week to check out senior-friendly caf?s across the UAE. They are assisted by Desir?e Vlekken, the founder of 4get-me-not, a social enterprise that focuses on senior citizens as part of its mission to address Alzheimer?s disease.
Talking about the unique concept of Vintage Vloggers, Vlekken told Khaleej Times: ?Senior citizens have different needs and wants and cannot be served the same adult food as others enjoy. They have dietary specification as many are diabetics or blood pressure patients. So, we thought why not create awareness among restaurants and cafes about the fact that if they can have a kids? meal, why not a seniors? meal, where they can have nutrition information on the dish on the menu; some comfortable chairs and a welcoming environment.?
Vlekken, who has a group of 80 active senior citizens, said she often goes out with them in smaller groups and realised that it was difficult to find suitable restaurants and caf?s suitable for senior citizens.
?We were also surprised to learn that there was no blog or reviewer in the region that catered to this segment. This is when I discussed the issue with two of our healthy and active seniors ?Puji and Hafez ? and they showed eagerness to become our ?vinatge vloggers? who would embark on a food trip in search for a senior-friendly caf? in the UAE,? she added.
Last week, the ?Vintage Vloggers? visited Cat Caf? in Jumeriah and enjoyed the company of cats at the caf?. ?We went to the cate caf? in Jumeirah because of the animal therapy factor. Since we do not have pets at home, we thoroughly enjoyed our one hour at the caf? with the furry animals. One cat even sat on my friend?s lap and slept, it was a very comforting feeling,? Puji said.
Previously, the seniors made a vlog at the Ratios caf? in Sharjah, owned by the Qassimi family, where they were given a five-star treatment and were served hearty and healthy breakfast meal on the house, since it was their first visit to the caf?.
Vintage Vloggers (VV) are set to review more restaurants and cafes across the UAE, and some of the points they said they look for while visiting restaurants and cafes, apart from the food, are being respected, welcomed and looked after politely.
?Food outlets should understand that seniors can be loyal customers too and will keep coming back when they genuinely feel valued as a consumer. Comfortable seating chairs, nutritional value with good back support is a plus. To get senior discounts also would give the place a high rating on the vlog,? Vlekken, who helps making the vlog for the seniors, said.
Original Source: https://www.khaleejtimes.com/news/uaes-vintage-vloggers-in-search-of-elderly-friendly-cafes
What's Your Reaction?