Gulf-Qatar, Israel agreements will lead to a stabler region: UAE minister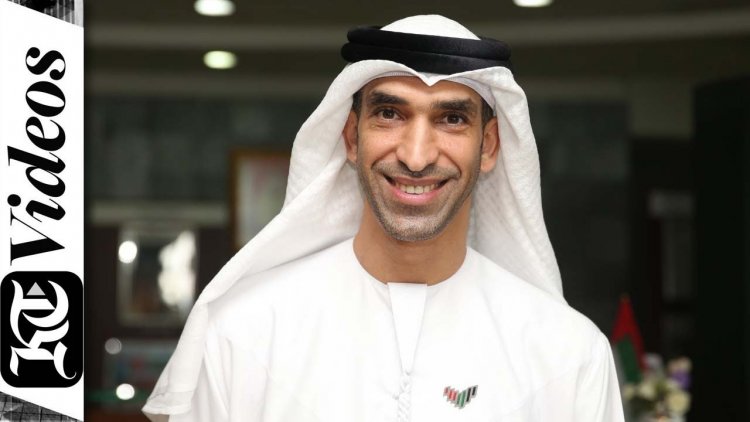 In an exclusive interview with KT, Dr Thani said the UAE Cabinet is committed to combatting Covid-19 "faster than any other country in the world".
Having taken over as the Minister of State for Foreign Trade last July following the new UAE Government structure, Dr Thani bin Ahmed Al Zeyoudi is currently busy overseeing the development of non-oil foreign trade sectors and the expansion of global partnerships in what he sees will soon be a 'post-pandemic world'.
Late last year, he became one of the first few UAE ministers to take a Covid-19 jab in order to "lead [his] colleagues, friends and family by example". The petroleum engineer with a PHD from France and an MBA from New York, represents the face of a young and dynamic UAE Cabinet that he says is committed to combatting Covid-19 "faster than any other country in the world".
The former UAE Minister of Climate Change and Environment and permanent representative to the International Renewable Energy Agency (IRENA) is also a minister in charge of attracting and retaining talent at the Ministry of Economy, serving the strategic direction of the UAE.
In an exclusive, freewheeling chat during a visit to the KT HQ on Tuesday, January 11, he spoke about a range of topics, including UAE's preparedness for life after the pandemic, the impact of the historic Abraham Accords that normalised relations between the UAE and Israel, as well as last week's Al Ula declaration, which saw the GCC nations restore ties with Qatar.
As the minister in charge of attracting and retaining talent, what's your role going to be like this year, especially as Dubai prepares to host the Expo 2020 Dubai a few months down the line?
Moving away from the pandemic will be our main focus from now until we start the Expo later this year. The world is facing the crisis and the consequences of the pandemic and, since I joined the ministry with my other brothers and colleagues after the government restructure, we have been working very hard in exploring what we can do to ensure we come out of this pandemic quicker than any other country in the world.
We have been looking at strategies that have been successful over the last 50 years to see what added value we can bring to drive the economy forward. The cabinet has rolled out some landmark laws lately, including personal laws to attract more talent to the UAE and facilitate their stay here. Residencies have been handed out to special categories and commercial laws [have been changed] to attract more investments into the country. We look forward to exploring more markets, opening new doors with our international partners.
The UAE is among the world's most dynamic markets in terms of foreign trade and one of the world's top 20 largest exporters and importers of commodities. Yet, oil products remain by far the largest item of exports. How do you see UAE's foreign trade shaping up, post-pandemic?
Through the last five decades, we have managed to transform our dependence on oil and gas to transform ourselves into a more diversified economy. We have now reached an innovation-based economy. If you look at the numbers now, we are talking about 30 per cent dependence on the Oil and Gas sector as part of the overall GDP. Is oil and gas going to be an integral part of our economy going forward? For sure, but, at the same time, we are looking at new sectors which are going to be game-changers — like science and tech, agriculture.
Agri-business, for example, dominates our discussion wherever we go, especially when it comes to supply-chain. New sectors like gaming and entertainment dominated household discussions, as we saw during the lockdowns around the world. The logistics industry is going to see a major transformation here, especially with latest technologies like robotics and AI being injected into the industry, like supply chain. Besides these, we will be focusing on sectors like e-commerce, for which we also have a dedicated minister. Health and education are two other sectors that will also see a major transformation, not just here in the UAE but around the world.
So, there are so many business opportunities for foreign investors here and even our companies abroad to look at, as we emerge from this pandemic.
Talking about transformation, what kind of impact have the historic Abraham Accords had so far in trade and what do you envisage with UAE and Israel now open to doing business together?
The Abraham Accords is going to have a huge impact on the wider region. We are not just talking about one of the two largest economies in the region here, but also seeing the added value for the region. Especially the Palestinians who are, for sure, going to have direct or indirect benefit from this relationship — from economic, business opportunities to social aspects. And, for sure, we are not moving away from our political commitments to the Palestinians.
We are expecting to benefit from some of these technologies and expertise [Israel is] advanced in. At the same time, they are going to benefit a lot from the expertise we built over the last 50 years or so in many sectors — including logistics, supply chain, infrastructure, and even the investments we put in our people. And we really hope that the economic agreements and the Abraham Accords bring peace, not just to the region but to the whole world. It's a signal that these agreements are leading us to a more prosperous world we are aiming for.
Just last week, we witnessed another historic agreement of the GCC restoring ties with Qatar. How is that going to shape the dynamics further?
It's a new page we turned last week. And we are looking at the greater benefits for the whole region. So, the Al Ula declaration and the Abraham Accords are all a step towards achieving a stabler region with growth in economies, more secured communities, and an eye on sectors of the future and a plan for our next generations.
Original Source: https://www.khaleejtimes.com/news/gulf-qatar-israel-agreements-will-lead-to-a-stabler-region-uae-minister
What's Your Reaction?