Get Latest Setup Of Vps Hosting ? We Are Best In Hosting Services
Get Latest Setup Of Vps Hosting ? We Are Best In Hosting Services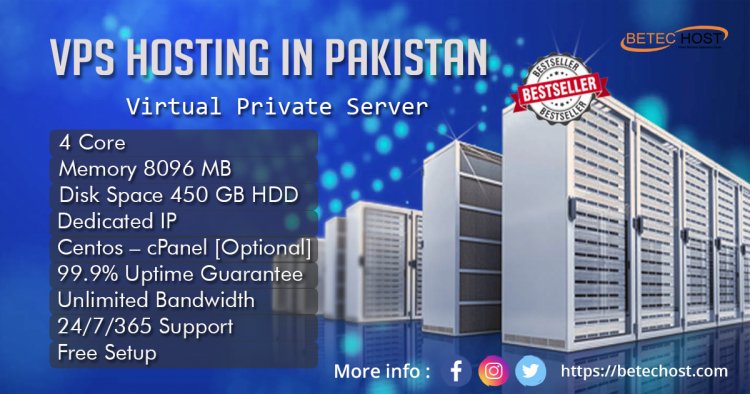 What is VPS Hosting?
VPS Hosting is a halfway point between shared hosting and a dedicated server. The Cheap VPS Service is created on a shared server but is self-contained with its own configuration. VPS Hosting gives you more flexibility and access to more resources than shared hosting, making VPS ideal for a growing business or platform.
What is a VPS Server?
A virtual private server (VPS) is created through the process of virtualization, by which a virtual replica of a physical server is created. A VPS is like having access to your own personal server with an allocated number of resources and the choice of a pre-installed operating system. It is an isolated microsystem based on a shared server. Since a VPS is self-contained, you have full control of your server setup and are responsible for all updates and security. You can also choose to opt for our managed service.
Why do you need a VPS Server?
If you know your site is going to enjoy a high amount of traffic, a VPS is a safer option than shared hosting options. VPS is also a great option if you have a number of websites to host and want to enjoy the ability to tweak their setup behind the scenes.
A VPS server works hard when it is needed, with burstable memory that kicks in when site traffic picks up. You can also reap the benefits of dedicated bandwidth, CPU, disk space, and RAM. VPS servers remove any limitations, allowing you complete flexibility. However, we still offer excellent technical support should you need it.
Looking for VPS hosting in Pakistan? You are at the right place to get Cheap VPS Hosting in Pakistan. Our VPS Hosting solutions are based on OpenVZ & the powerful KVM virtualization platform. OpenVZ creates multiple isolated VPS on a single physical server which allows sharing of hardware, license fees, and server management efficiently. Each VPS performs exactly like a stand-alone server and can be rebooted independently. OpenVZ Containers powered VPS offer a magnitude of higher efficiency and manageability than traditional virtualization technologies. While KVM is Kernel-Based Virtualization technology which is considered as full Virtualization. Each KVM based Virtual Private Server will have its own kernel and so it can serve requests at its own and would be efficient.
Get the reliability, control, and flexibility of a dedicated server with WebSouls. WebSouls providing Cheap VPS Hosting Providers and it is an ideal choice for webmasters and business owners if they want complete control over their web hosting environment along with the flexibility and freedom of dedicated servers but at a low cost. VPS Hosting offers full root SSH access along with the ability to host unlimited domains, install custom software/applications, or resell hosting. All Virtual Private Servers also comes with Apache, PHP, Perl, and MySQL pre-installed. You can choose either Parallels Plesk Panel or cPanel/WHM control panel for ease of use and management of your VPS hosting. BeTec Host VPS hosting plans are best in the Pakistan market and in no comparison in the International market. Enjoy the flexibilities of Dedicated servers after spending a little amount.
What are the real advantages of using VPS Hosting?
VPS hosting gives you high performance with an isolated environment where the CPU, RAM, and storage is 100% dedicated and not shared with any other websites or apps. That, compared to shared hosting, results in higher performance and security along with more flexibility and control over the server.
VPS Hosting Pakistan also offers higher resources and bandwidth/traffic than shared hosting, which means faster load times and unlimited traffic. A VPS allows the admin more control over security hardening and is less vulnerable to hackers in comparison to shared hosting. With shared hosting, if a site gets hacked there?s a greater chance that other websites on the server will also be compromised. Conversely, due to virtual isolation, a hacked VPS on the same hardware, won?t affect surrounding VPS environments.
And with root access, there are no restrictions on the applications you install; you can access and edit the system files, settings, and server logins.
Read More VPS Packages Visit BeTec Host.
References:
pk.godaddy.com
vps.net
What's Your Reaction?